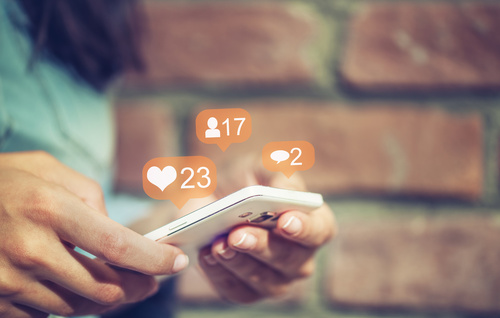 Nowadays nearly everyone is on social media as it has evolved into a core communication and networking outlet for consumers and businesses alike. When people become curious about a business or brand, often the first thing they do is turn to social media. But with nine in ten business having a social presence, how do you set yourself apart?
For B2B companies, social media is utilized to build business credibility and attract prospects. So how can you make an impact with your prospects on social? You may think you're doing social, but you need to think bigger to get the attention you want. We've compiled a list of 10 tips that will take your B2B social media strategy to the next level.
Know Where to Meet Your B2B Audience 
LinkedIn, Facebook, Twitter, or Instagram? You certainly do not need to be on every social channel, but it is important to figure out where your audience lives on social in order to reach them. Just because a certain platform works for certain industries doesn't mean that it will be the same for yours. You need to do some research before jumping in or continuing to invest your team's time or energy (if you haven't already)!
Another common misconception is that social channels (for example Facebook or Instagram), are only for personal or B2C companies.  The smart businesses know that if their prospects and customers are on those channels, they should be too. They will tailor their social strategy and messaging accordingly.  For example, many of our B2B clients maintain a social presence on all channels and have different content strategies per channel.
Invest In Your Organic Presence and Listen 
A great B2B social media marketing strategy requires a strong organic presence. Unfortunately, that takes time and effort. There's nothing worse than a prospect or customer visiting your page looking for information, only to find out that you aren't posting regularly or that there isn't much to see. It's key that you're actively posting, answering questions, inviting conversation, and using social listening tools to address the triumphs and frustrations being said about your business.
Play with Paid Social 
Next, with the rapidly changing algorithms and the decreasing organic reach of posts, paid social media can be an effective way to grow your following and elevate your content. All platforms have paid social media offerings. For example, LinkedIn has some very pointed and specific targeting features which can be especially helpful for B2B marketers who may only want to talk with a small subset of decision makers.
Figure Out Your Audience's Pain Point
Keeping in mind your audience's pain points gives you perspective of the bigger picture. This can be especially be helpful for both developing content and targeting your audience with paid social.
Beyond knowing your audience's demographics, what are your prospects pain points? How can your product or service help them? Develop personas and let their needs help guide your B2B social media marketing and content strategy so that you can deliver content that resonates to turn your prospects into customers.  
Develop a Balanced Content Mixed
It can be tempting to push out a steady stream of solely promotional and product-focused posts, and unfortunately, we see way too many companies do this.  It's important to remember that your followers are not going to keep following to just hear about you. You need to maintain a mix of self-promotional content as well as resourceful content to help position yourself as a helpful resource for your prospects and customers rather than a sales pitch. You can use a variety of content to guide your prospects down the funnel to a path that ends in conversion. Think about if you were a follower what you would like to see and what would resonate, to build an audience that will last.
One helpful way to ensure you're promoting a balanced mix of content is through a content social calendar.
Influencer Connection
One of the best ways to establish a B2B social media presence is through influencer marketing. The phenomenon of social proof dictates that people listen to endorsements or advice from those people they already admire, follow, and respect. With just a couple key influencers in your industry singing your company praises, your social media presence will gain credibility and followers very quickly.
Influencers don't have to just be individual people, they can be other companies or businesses that already have a strong following or presence too (especially in B2B marketing).
Posting on Weekends
Many B2B companies reduce their number of social posts on the weekends. Mostly because of the professional work week being Monday through Friday and the perception that there is less engagement on the weekends. However, because companies seem to decrease their content, it leaves an opportunity to capture the weekend's audience. (Tip: Try recycling some content on the weekends and measuring the variance in engagement.)
Recycling Content
If you want to increase the reach of your posts by an average of 172% then try recycling! Because of social media algorithms, only a small percentage of your audience actually sees your content (less than 10%). If you have a post performing well, you will want to recycle it across social channels, multiples times a week, several times a month, or even seasonally depending on the content. Data shows that on average, a piece of content won't begin to see diminishing returns until 3 times after the original post. It's good to recycle content at different times, days, pages and accounts.
If you're asking, "But won't people see the post more than once?" the answer is that recycling actually results in very minimal duplication. Additionally, for the small group of people who do see the post more than once, many of them probably did not really process the content the first time.
Incorporating Video
Remember when people used to say that a picture is worth a thousand words? Well, now video is worth a thousand words. Consumers can process visuals 60,000 times faster than words alone and are 10 times more likely to engage with video than any other kind of content. By 2019, it is predicted that 80% of all internet content will consist of video. So you've got to start with video content to keep up. Luckily there are plenty of easy video tools out there now to aid the video newcomers!
In addition, YouTube is the second largest social channel with the second highest number of consumers after Facebook. It's easy to upload content to YouTube and let it live there for one audience, while also sharing to other platforms.
Measure and Optimize
Our final tip is to always measure and optimize. One of the great things about social and digital media is that there is always opportunity to optimize as you go since it is constantly changing. Establish pointed goals in the beginning, and don't just measure any KPIs, figure out which KPIs translate directly to your goals. Follow your progress and make various changes to your strategy and plan to grow your presence and brand!
If you want some advice with social, Leadit Marketing can offer a wealth of strategic ideas to help you formulate and implement your social media strategy. Contact us for a free consultation today!
Blogger Profile
Shannon Prager is recognized B2B marketing strategist and the President of Leadit Marketing. She is responsible for the daily operations and management of Leadit Marketing as well as the long term vision for the company.
A marketing leader with over 19 years of B2B demand generation and marketing experience, she understands the importance of a fully developed integrated marketing strategy. Shannon's background includes demand generation, marketing automation, social media, digital marketing, customer marketing, account based marketing and marketing operations. You can follow her on LinkedIn via https://www.linkedin.com/in/shannonprager or Twitter @ https://twitter.com/LeaditMarketing
Sign up for our weekly blog for the latest tips and trends in B2B marketing.