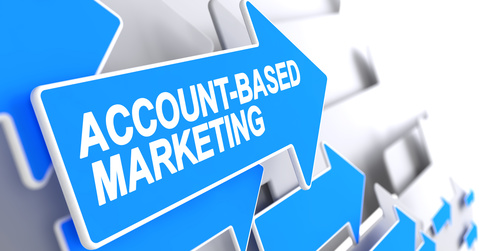 Just as traditional journalism is based on the principles of answering the five "W" questions – What, Who, Where, When and Why – you can apply the same to Account Based Marketing. Much has been written about ABM, including in this space, but it's always worth covering such basics for those who are still trying to understand its relevance to their own organization, before deciding whether to invest in such a major new strategy.
Read on for a rundown on what it is, why it's generating so much buzz, who it's for, where to use it, and when your company can be ready to implement an ABM strategy.
What Is Account Based Marketing?
As opposed to outbound sales messaging through ads and promotions, or inbound marketing that uses "attraction" content to generate leads, ABM is marketing that's based on a specific account or narrowly targeted sets of accounts. Accounts are segmented in hierarchical order by their potential revenue value, and may include both existing and prospective customers.
A key element of ABM is the ability of Marketing and Sales to align their goals toward the highest value accounts. It requires that both teams identify their real and ideal prospects, then coordinate a series of highly personalized messaging strategies aimed at engaging directly with these potential Big Spenders.
As ABM matures as a widely adopted marketing strategy, more and more marketing automation software makers such as HubSpot and Marketo are developing tools to make it easier for marketing and sales staff to work together on developing a successful ABM strategy. From analyzing, selecting and tracking target accounts to coordinating each touch point, having such tools to organize it all is becoming more of an essential than a convenience.
Why Is Everyone Talking About ABM These Days?
Going into 2017, one survey showed 71 percent of businesses were considering, testing, or already using Account Based Marketing. 96% of B2B marketers using ABM said it was a key factor in their success. And 60% could positively attribute a revenue increase of at least 10% after using it for a year.
There are a lot of good reasons to consider using it:
ABM makes your sales team more efficient.
Salespeople should be interacting with customers and closing deals, and not spending the majority of their time on the grunt work of finding information and contacts.  Here are some things that ABM helps take off the salespersons plate:
Finding information and contacts

Initiating a customer's first engagement

Thinking of things to say

Finding content to share

Engaging on social channels
Once the initial research and setup is done, it makes marketers more efficient too.
By focusing on a smaller number of accounts, you're achieving quality over quantity. You're not wasting resources on prospects who are least likely to buy.  The accounts you do target and nurture are the big ones, with higher payoffs. And with fewer accounts to track, it's easier to keep tabs on results as your marketing progresses.
Smarter use of your customer data will allow you to develop precision-targeted, customized messaging to help you increase your sales pipeline velocity.
Finally, ABM can enhance your company's brand. A more personalized, efficient marketing strategy can make a surprisingly positive impression on your sales prospects. In fact, customer experience during the buying phase is cited by 71% of customers as the most important factor in their buying decision, leaving price and even product fit far behind.
Who Should Use Account Based Marketing?
Mostly, ABM is being adopted by enterprise-level businesses, and it is mostly relevant to enterprises that sell to other large or medium-sized enterprises. There are always exceptions, of course. But because of the intensive degree of nurturing involved in ripening such accounts, it wouldn't be relevant to a business that sells directly to consumers.
If you're the marketer whose job it is to execute an ABM strategy, you'll be working with a lot of other "Who"s. Once you've targeted the companies you want to sell to, you also need to identify the key decision-makers and stakeholders within each one, then launch personalized campaigns across channels that resonate with their unique needs, interests and attributes.
And that's the last "Who" you need to include in your strategy: your Sales manager. To map and manage strategic communications at this level, sales and marketing alignment need to be in lockstep—from shared tactics, to account identification, to targeting and outreach, and continuous feedback.
With ABM, your company benefits from better alignment between marketing and sales, who don't always orchestrate their efforts – even though they should. Sales needs to tell marketing who they're talking to, who's about to purchase, and who's already purchased so marketing can understand what's working and what isn't. With a formal ABM strategy in use, those conversations become automatic.
Where Should ABM Be Used?
Even with the best messaging content to reach your accounts, it won't be very effective if you don't use the right channels to promote it. It's important to choose the right channels to deliver it, based on what's most effective for a given organization or role.
Email is the easy part – you already know how to conduct campaigns there. Social media channels can be a little trickier.
Here's where it is helpful to know where the specific people within each target "live" online. The Pew Research Center Demographics of Social Media Users does an excellent job of profiling the users of five major social media platforms — Facebook, Pinterest, Instagram, LinkedIn, and Twitter.
That should shed some light on which channels the people within each account are mostly likely using, and how they consume the content you're custom-creating for each of them. YouTube is also a channel where you can browse to find topics of interest to your targets.
When Will My Company Be Ready to Start Using ABM?
There's some internal groundwork and research to cover before you're ready to begin. Most importantly, you need buy-in from Sales for the idea, so that's a good place to start testing the waters. Many companies have begun to appoint a new executive role, the Chief Customer Officer or Chief Revenue Officer, with overall responsibility for meeting revenue targets. The CCO/CRO oversees both marketing and sales functions, and sets their mutual goals. An ABM strategy would most likely launch from that office, if one exists.
You also need to have the analytics tools in place, with staff trained to use them, so you can:
Pinpoint your target accounts;

Analyze revenue estimates from each account, for ordering your lists;

Identify and track contacts with all stakeholders and decision makers within each account;

Manage and generate triggered communications to each contact, throughout the life of each account, and not least –

Track the actual sales performance of each account in your list so you will know a year from now whether the program is working.
Hubspot offers a free Marketing & Sales Alignment Kit, which you can find here, in addition to their premium offerings.
Those are the basics. To read a step-by-step guide to getting started, see my previous post, Account Based Marketing For Dummies.
If you think ABM is a good fit for your company, but would like to find out more about it first, we're here to advise you. Contact us at Leadit Marketing for some friendly help, at any time.
Blogger Profile
Shannon Prager is recognized B2B marketing strategist and the President of Leadit Marketing. She is responsible for the daily operations and management of Leadit Marketing as well as the long term vision for the company.
A marketing leader with over 19 years of B2B demand generation and marketing experience, she understands the importance of a fully developed integrated marketing strategy. Shannon's background includes demand generation, marketing automation, social media, digital marketing, customer marketing, account based marketing and marketing operations. You can follow her on LinkedIn via https://www.linkedin.com/in/shannonprager or Twitter @ https://twitter.com/LeaditMarketing
Sign up for our weekly blog for the latest tips and trends in B2B marketing.