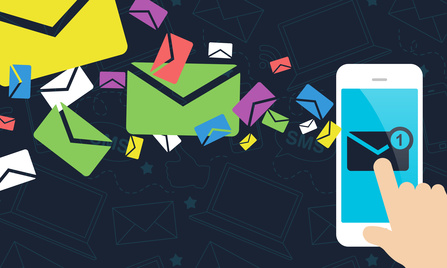 Email practices have changed a lot in recent years. Want to make sure your email campaigns are optimized for success? Here's a rundown of 12 things you need to know about email best practices for 2017.
1. Build your own list.
With email marketing today, the goal is quality over quantity. To get people to read your emails (once you've lured them to open with a good subject line), they have to have a connection with or an interest in what you do or sell. With purchased lists, that connection just isn't there.
This is why opt-in lists produce better open and click rates, and also how you minimize the number of spam reports that could end up getting you blacklisted by some email client providers. There are multiple ways of giving your prospects opportunities to opt in:
Website

Live events

Blog

Landing pages

Social media contests
Buying email lists is still possible, but you can only use them one time for opt-in purposes and even then, you have to be careful. The best way to make people distrust you right off is with an unsolicited email. Besides, the CAN-SPAM law prohibits the practice of sending marketing emails to anyone who has not actively requested them.
2. Design your email for quick, easy consumption.
These days, emails are for quick reading; you also need to set it up to be mobile-friendly.
Write your copy around your CTA, and build a context for it in the text.
Use limited copy and bulleted phrasing for brevity.
Subject lines using five words or less get higher open rates, avoiding clipped text
3. Include a clever, contextual CTA.
You can include a CTA in your subject line as well as in the email body. Go for strong, punchy or clever phrasing. In general you want multiple CTAs, at least in two places within the email body.
Make the principal CTA bold and prominent.
Make it an appropriate size, with clear white space around it.
Consider (tactful) multiple placements to draw the reader's eye.
4. Regularly check engagement metrics, and keep the list curated.
Check open and click rates, the number of suppressed and unsubscribed, and the dreaded Spam reports (hopefully these will be rare or nonexistent).
Follow up on complying with every unsubscribe request.
Set up email preferences as an option before they unsubscribe: let them opt to receive fewer emails, go weekly vs daily, or elect to get only certain categories of announcements.
You're better off sending to a small but highly engaged list of recipients than to a broader, but unengaged, list.
5. Give before you take.
Before asking your subscribers to purchase from you, or sign up for a service, offer them something of value first. Some types of valuable content you can use:
White paper with helpful industry tips
Informational "Top 10" or "Worst Mistakes to Avoid" list
Discount code or coupon
It's critical to establish trust, and position yourself/your business as an industry thought leader before moving in to ask them to do something in an email blast.
6. Make sure your email service provider lets you use an independent IP address.
Check whether mail you send through their email automation tool uses a shared or a dedicated IP address.With shared IPs, you're in a pool of other senders; their reputation can affect yours and vice versa.
Some of the less reputable senders routinely get caught up by spam filters.
When you're sending from a dedicated IP address, you are the sole sender and your reputation (and how it affects your deliverability) is yours alone. Sendgrid is one provider that uses customer-dedicated IP addresses.
7. Never use a "no-reply" address; always use one attached to a real person.
Make certain to use an actual, monitored account.
Your own real company address is perfect. Or have it be from whatever person with whom they have the closest relationship, perhaps simply through branding: if the company bears the founder's name, send it from the most recognizable family member. (Just make sure it's you monitoring that account.)
By allowing your customers to reply directly to an email campaign, you're opening up opportunities for conversations you may have never been able to start before. You'll have more chances to get them signed up, or farther along in your sales pipeline.
8. Use re-engagement campaigns for unresponsive subscribers to renew their opt-ins.
Ask directly if they still want to hear from you; try some clever messaging here.
Use a new opt-in button as the CTA
Make a special offer or discount to entice them back.
9. Per

sonalize and segment your lists using whatever filters are available.
Some of the more sophisticated email automation tools offer additional filters that let you parse data and segment lists by demographic, buying behaviors or other characteristics.
Get better engagement if you cater your messages to specific characteristics you know about your customer.
What did they purchase lately?
Where do they live?
What is their specific role or title and what do they care about most?
These are all drill-down capabilities which you'll need if you intend to do any Account Based Marketing, one of today's hottest trends.
10. Use A/B testing for subject lines and CTAs.
If your results are less than stellar from your first few campaigns, try out different subject lines and different CTA language or placement within the email.
Caveat: You can only A/B test 1 item at a time to understand what's really moving the needle.
Even today's simplest automation tools, like MailChimp, offer this capability.
11. Use triggered emails as well as the more typical "broadcast" type.
Triggered emails, like welcome emails and cart abandonment emails, generate the majority of email marketing revenue at some brands, even though triggered email volume typically comprises only about 5% of overall email volume.
Once someone is already semi-engaged with whatever event was the trigger, it's easier to keep them on their buying journey.
While these have to be regularly updated and optimized according to the evolving offers which trigger them, the payoff may be worth it in ROI and in your investment of time, versus all the work that goes into broadcast emails.
Segmenting lists, analyzing metrics and testing can be a bit overwhelming for marketers who have multiple responsibilities in their company. If you'd benefit from some expert emailing help, contact us at Leadit Marketing.
Blogger Profile
Shannon Prager is recognized B2B marketing strategist and the President of Leadit Marketing. She is responsible for the daily operations and management of Leadit Marketing as well as the long term vision for the company.
A marketing leader with over 19 years of B2B demand generation and marketing experience, she understands the importance of a fully developed integrated marketing strategy. Shannon's background includes demand generation, marketing automation, social media, digital marketing, customer marketing, account based marketing and marketing operations. You can follow her on LinkedIn via https://www.linkedin.com/in/shannonprager or Twitter @ https://twitter.com/LeaditMarketing
Sign up for our weekly blog for the latest tips and trends in B2B marketing.