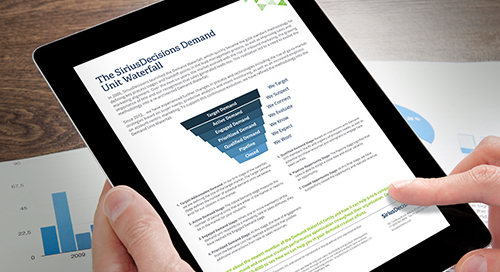 The marketer's job today is to attract and engage using multiple media channels, from billboards to SMS geo-texting and every kind of digital or mobile strategy in between. Here's how you can use the latest version of the industry-leading model, Sirius Demand Generation, to reach those discerning B2B buyers most likely to want to hear from you.
The Sirius Demand Generation Waterfall and its Evolving Models
The Sirius Demand Gen Waterfall was for many years the leading B2B process model for attracting, qualifying and nurturing leads toward a closed sale. Its logical arrangements of all the elements gave marketers a useful organizing tool to maximize and optimize every lead flowing through their funnels.
Essentially, the Sirius Waterfall looked like this when it was first launched in 2002:
This model empowered marketers to feed pre-qualified leads to sales people, who could do further triage and qualifications of those leads so they could concentrate on those most likely to produce a sale.
The Demand Generation Waterfall was revised in 2012, with some key refinements reflecting technology advances like more sophisticated marketing automation, and the growing influence of inbound and content marketing. The 2012 version looked like this:
This year, at their annual summit in Las Vegas, SiriusDecisions announced their new "Demand Unit Waterfall" — essentially an updated, more accurate conceptualization of the first two iterations.
Gone is the multicolored flow chart with its carefully segmented lead types and multiple acronyms. The sleek, 2017 edition has been renamed as the Sirius Demand Unit Waterfall, which looks like this:
Intended to address changing dynamics in B2B engagement

New framework features an increased focus on buying groups, rather than the progression of individual leads or inquiries.

Addresses the realities of engaging buying teams, as well as incorporating new tools and tactics such as predictive analytics and intent monitoring.

Original Demand Waterfall was designed to track activity once a buying journey had begun

New framework is positioned to help companies better define and target their total addressable market.
Two key components in the new Waterfall model are the focus on buying groups and the concept of Demand Units.
Many B2B organizations have been too limited in defining their target markets, because they were focused on either individual buyer personas or accounts. The old model was based on a prototype persona and their Buyer's Journey.
A Demand Unit consists of a buying group that has organized needs the organization is challenged with. Demand units might be based on different lines of business, geographies, job functions or roles in the purchase process.
How to use Demand Unit strategy to keep a constant flow of pre-qualified leads
If you're already using Account Based Marketing strategies, then you've likely worked out your screening methods to identify and assign relative value to leads according to source or type, perhaps using a vendor such as Marketo or Leadspace.
Using that data, you can begin quantifying and sorting your leads into the various Demand Units, as explained below.
Target Demand:
Total Available Market. The number of potential Demand Units that exist for this solution in the defined market.
Active Demand:
Demand Units that are showing evidence of acute need or buying intention.
Engaged Demand:
A member(s) of the demand unit responds to a marketing, tele or sales stimulus.
Prioritized Demand:
The level of engagement from the demand unit has reached a threshold that justifies additional interactions from tele or sales resources.
Qualified Demand:
This is based on actual interactions with members of the demand unit, the fit and urgency of prospect needs, as well as potential purchase resources and willingness to engage has been verified.
Pipeline:
Demand Unit can be entered into the pipeline based on projected deal size and close date.
Closed:
Closed-won deals are recorded here, with notes on important details that impacted the buying decision.
Tackling this for the first time can be daunting. Here at Leadit Marketing, we help lots of clients undertake core marketing challenges when it's their first experience with a new kind of strategy, especially where choices of different technology are involved. If you're unsure where to start, contact us.
Blogger Profile
Shannon Prager is recognized B2B marketing strategist and the President of Leadit Marketing. She is responsible for the daily operations and management of Leadit Marketing as well as the long term vision for the company.
A marketing leader with over 19 years of B2B demand generation and marketing experience, she understands the importance of a fully developed integrated marketing strategy. Shannon's background includes demand generation, marketing automation, social media, digital marketing, customer marketing, account based marketing and marketing operations. You can follow her on LinkedIn via https://www.linkedin.com/in/shannonprager or Twitter @ https://twitter.com/LeaditMarketing
Sign up for our weekly blog for the latest tips and trends in B2B marketing.