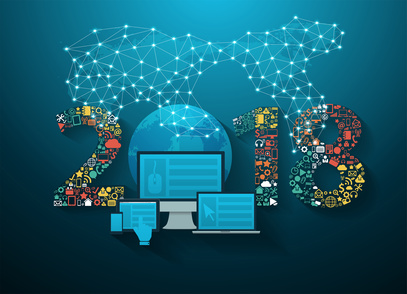 Favored strategies in digital marketing can change as often as Google changes its algorithms. We've composed 12 Do's and Don'ts to guide you through best practices for digital marketing in 2018.
1. DON'T let fear or intimidation keep you from using videos in your marketing. 
Video marketing, in general, is the fastest growing medium for content marketing right now. In 2017, online video accounted for a whopping 74% of all web traffic. If you still haven't jumped on this train, you have few excuses left. Here are some more compelling stats:
52% of marketing professionals report that video yields the best ROI of any strategy.

65% of video viewers watch more than 3/4 of a video.

33% of tablet owners watch about an hour of video on their devices every day.

28% of smartphone users watch a video on their devices at least once a day.

75% of business executives watch work-related videos at least weekly.

When marketers included a video in an email, the click-through rate increased by 200-300%.
Considering how easy it is now to produce your own, video marketing is no longer optional.
2. DO use Facebook Live.
While we're on the subject of Facebook, you've probably seen Facebook Live videos blowing up on your own personal feeds.
Video has always been one of the most engaging media formats, but Facebook Live takes it to the next level. It's real, there are no do-overs, and paired with Facebook's comment tools and reaction buttons, it's interactive.
According to Facebook, people comment over 10 times more on Facebook Live videos than on regular videos, most likely because they know you can see their comments in real-time. You can own and conquer your fear of video by going with the Live format (after some scripting and practice, of course), knowing that viewers are always more forgiving of bloopers occurring in real time. In terms of best practices for digital marketing, it's a fantastic way to get your audiences engaged.
3. DO use Facebook Advertising.
With 1.23 billion daily active users, Facebook has exceeded all expectations for a social media network — blowing past some pretty stiff competition.
Facebook's Ads platform continues to outperform any other form of online advertising.
And now, Facebook Ads are performing better than ever before for B2B brands.
Because of the comprehensive demographic information it collects from users, its targeting capabilities are unparalleled. Your ads can target viewers by age, gender, education, occupation, interests, location, and many other filters.
Ranging from Sponsored Posts to Facebook Messenger Ads and Sidebar Ads, there are lots of different options available to reach your ideal buyer persona, including the Live videos mentioned above.
4. DO consider podcasting.
If you don't like the camera, but love talking, podcasting might be the best medium for you to create content.
You can follow the standard interview format, host a question & answer segment or you can simply talk by yourself or with someone else on your team about a specific topic for each episode. One plus to interviewing well-known people in your industry is that you can capitalize on their existing audience.
Appearing on already established podcasts within your industry is another approach which allows you to leverage their existing audiences to grow your brand awareness and win people over either as leads or future listeners of your own podcast.
If you're determined to get the most value from podcasting, you'll most likely want to host your own podcast and be a guest on others within your industry.
5. DON'T post short blogs (500 words or less).
The short form blog post just won't cut it anymore. The standard today is for long-form, high-quality content. Long-form content, on average, earns more engagement, higher Google rankings, and more shares than shorter articles will.
In most industries, the market for small bytes of wisdom has gotten fatigued. If people are going to read beyond the headline, they want to see that there's a lot of red meat in there to digest.  (This post, for instance, is over 1500 words.)
Today's bloggers need to give their readers in-depth, actionable information in order to acquire and keep an active following. Long-form, high-quality content is the way not only to rank on the first page of search results, but also to provide the level of value that customers expect in 2017.
6. DON'T ignore the value of outbound marketing and physical advertising. 
 B2B companies frequently make the mistake of neglecting visible, physical marketing tactics that are more common in the retail arena. What we as marketers need to recognize is that their corporate customers are also people who respond to messages physically put in front of them, just like retail customers interested in consumer products.
In the San Francisco Bay Area and Silicon Valley, for instance, most of the tech companies use highly visible billboard advertising along the freeways and public transit corridors to maintain a high level of brand awareness in a fast-changing industry landscape, where re-branding is a common occurrence. If your business is located in an area of geographic concentration for a particular industry, this keeps you at the top of everyone's mind – including local decision makers.
7. DO Use an Engagement Manager
Also called variously the Business Development Representative, Chief Customer Officer, or Chief Revenue Officer, this person oversees the "hand-off" between sales and marketing. They are responsible for managing leads at the bottom of the marketing funnel and the top of the sales funnel.
Marketing and sales are too closely related to keep them separated any longer.
While the specific activities of marketing and sales may differ, the underlying goals are virtually the same with inbound marketing. One of the most valuable jobs that's appearing more frequently is the Engagement Manager or Business Development Representative, who keeps all the horses pulling for the same team.
8. DON'T use intrusive mobile pop-ups. 
While they can be extremely effective for lead generation, they're also a major annoyance to users. It's extremely frustrating when a pop-up takes over the entire screen on a phone and you can't get back to the content you were reading.
It turns out Google hates it just as much. As of February 2017, Google is penalizing sites who didn't heed the warning and continue to use what Google calls "intrusive interstitials" or "problematic transitions."
9. DO use Conversion Rate Optimization (CRO)
CRO is another tactic that's been around for a while but has often been overlooked because of its complexity. CRO is the practice of taking a deep dive into your on-page analytics to understand how the user experience might be re-designed to result in more click-throughs. Fortunately, there are many robust CRO and testing tools on the market today.
The beauty of CRO is that it lets you increase the value of visitors already coming to your website, rather than simply aiming to increase their numbers.
10. DON'T use Twitter or LinkedIn for outbound sales. 
Social networking sites are perfect for starting and building relationships, establishing your street cred, helping you define buyer personas, and promoting brand awareness. They are not where you go to pitch someone in a DM or In-Mail to sign up or buy your product. That's the best way to get someone to un-follow or sever their connection with you. Nurturing, yes. Selling – always a No-No.
11. DON'T make generic, boring offers. 
In making any offer for lead generation purposes, always try to make it for remarkable content.
A good working definition of "remarkable content" is something you offer for free which others normally sell. It can also be something you've created that's both unique and inherently valuable.
This is why the eBook strategy, while still useful from an SEO standpoint, may be getting played out. Everyone publishes eBooks these days, and while some of them are still packed with insights, it's always a "free offer."  As the number of such offers has increased exponentially, this kind of offer no longer seems as valuable.
A creative alternative would be to offer prospects a portion of an internal training, an evaluation or metric measurement tool, a directory or useful reference tool, or other proprietary systems you've developed for your own company's use that could translate to other businesses – especially, your prospect businesses.  These kinds of interactive offers are the new eBook.
LeaditMarketing can offer you a wealth of ideas to freshen your digital marketing strategy. Contact us for a consultation if you'd like some help.
Blogger Profile
Shannon Prager is recognized B2B marketing strategist and the President of Leadit Marketing. She is responsible for the daily operations and management of Leadit Marketing as well as the long term vision for the company.
A marketing leader with over 19 years of B2B demand generation and marketing experience, she understands the importance of a fully developed integrated marketing strategy. Shannon's background includes demand generation, marketing automation, social media, digital marketing, customer marketing, account based marketing and marketing operations. You can follow her on LinkedIn via https://www.linkedin.com/in/shannonprager or Twitter @ https://twitter.com/LeaditMarketing
Sign up for our weekly blog for the latest tips and trends in B2B marketing.