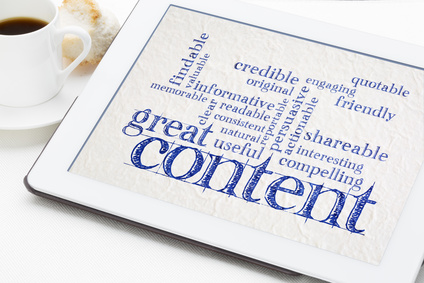 Here are some of the best content marketing tips for 2018 that will get your audience's attention – in a good way. Learn about writing tips for better digital marketing, the power of the editorial content calendar, and some resources to make you smarter.
Increase the potency of your persuasive writing technique.
Tell stories.
Think: what makes those Super Bowl commercials so memorable? They tell a whole, heart-tugging story in 30 seconds. Use storytelling principles to craft messages that will resonate with your audience, focusing less on the "what" and more on the "why."
The next time you sit down to write, try out this approach. Instead of tackling the topic head on, ask yourself why it matters. Each time you write down an answer, challenge yourself to push it further. Find the larger story happening behind your message. Dilly dilly!
Make connections.
Steve Jobs once famously said that creativity is all about seeing the connections between things. Cause and effect is one example, but there are thousands of ways for people and things to make connections that result in something entirely new and unique. Connect those dots, and help your readers see the "why" as well as marvel at the resulting "what" that's represented by your product.
Use stunning headlines and opening sentences.
Just like in every creative writing class, your teacher most likely drilled into you the importance of your title and opening sentence to keep the reader interested enough to continue on. Copywriting for business is no different. Your headline and lead-in sentence should be
Intriguing, or even startling

Clear as to the subject (though this can be about the "why," not the "what")
First line should be compelling in the questions it raises, with an implied promise that answers or solutions will follow.
Avoid jargon and hyperbole.
One of the surest ways to put a reader on guard and trigger trust issues is to use terms like "Groundbreaking," "Revolutionary," or "Scalable Solutions." We've all seen these terms a million times before.
If you're tempted to use one of these ubiquitous terms because you're thinking they must work if they're so powerful and popular, stop yourself right there. You'll never capture more market share by being part of the noise – use unique (or even humble) phrasing that stands out.
Use words sparingly.
Brevity is the soul of clarity, as well as wit. This is about making sure every word counts, and being your own ruthless editor.
In general, if you can afford to cut without losing the meaning of a sentence, do it. Push yourself to strip down your word count. Turn 50-word homepage copy into 25, then push yourself again to make that 25-word sentence into 15 words.
This goes for emails too. Even storytelling-style emails should be kept to a minimal word count.
For blog posts, which are now in the ideal Google-ranking range of 1000 – 1200 words, you don't have to be quite as ruthless – just don't stuff them with useless phrases, sentences or paragraphs that don't serve your thesis. Cutting out all the fat puts more meat in your information – best for Google, and your audience.
Use keywords the preferred way.
If you're working with one or more keyword phrases in your copy, don't torture your syntax to use them. And try not to make them obvious with several repetitions in close proximity, in an attempt to game Google's ranking system.
Google is on to that "keyword stuffing" practice. Its latest search algorithm can distinguish good prose from bad, and it will grade your content in the same way your writing professors did in college, with the best pages rising to the top on search engine results pages (or SERPs, as they call them in the SEO trade).
That said, if you can naturally work your preferred keyword phrase into the SEO title, meta description and the first paragraph of page text, you'll still boost your ranking so long as the rest of your copy is well written.
See the Resources section at the end for sites that will help determine your best titles and keywords.
Stay organized with an editorial content calendar.
This next set of tips is for marketing directors and consultants – or anyone responsible for content within an organization.  The editorial calendar is your best tool to plan out all types of content for the upcoming weeks, months and year.
Editorial content calendars keep you organized and boost the reach of your content in several ways:
See at a glance what's in the pipeline

Evaluate whether you have enough content to supply each stage of Buyer's Journey

Keep sales and marketing teams aligned by mapping to ad campaigns & followups

Keep writers accountable to deadlines

Ensure that content gets promoted through multiple relevant channels
Key fields needed for a good editorial content calendar:
1. Title
2. Publish Date
Also add interim due dates such as "Draft," "Review," and "Final Edits"
3. Content Type
E.g., web page, landing page, company blog, embargoed press release, etc.
4. Status
Use any one-word description to show progress/completion.
5. Media Type
The best content marketing strategies include content publication across various media types. Build your owned media as the foundational element of your content marketing strategy, and use the Attraction power of the other types to draw visitors to your own sites.
Types of media:
Owned.

your corporate blog, corporate website, corporate microsite or Tumblr.

Social.

(Twitter, Linked In, Facebook, Pinterest, YouTube, etc.)

Earned.

Press pick-up, guest posts on other companies' blogs

Crowdsourced Authority sites.

Contribute what you know in the form of "evergreen content" to the knowledge base, and seekers ready to buy will eventually come find you. These are also great for SEO backlinking.

Quora

,

Slideshare

and

Medium

are three examples.

Paid. Taboola, Outbrain, Vocus, Shareaholic,

and other PR-focused media properties are where you can pay to get into the email inboxes of journalists with large followings.
6. Writer
(if you have more than one)
The person responsible for writing the content, such as an internal writer, freelancer, or agency.
7. Author
(Who gets byline credit, if using a ghostwriter)
If you have multiple personalities within your company whose persona will be used for content, show whose name will be assigned to it.
8. Pertinent Buying Stage
Creating content for a specific buyer stage helps ensure relevant, higher converting content is always available in your pipeline. Buying stage examples include:
TOFU:

Top of Funnel

MOFU

: Middle of Funnel

BOFU:

Bottom of Funnel
Or, use whatever acronyms correspond to the way you've mapped out your Buyer's Journey.

Resources
For title selection:
For editorial content calendars for marketers:
Hubspot has some free editorial calendar templates.
If you want all the bells and whistles on an editorial content calendar with full functionality, workflow, and analytics, Curata is one of several purchase options.
GatherContent is another editorial calendar and workflow management tool that's especially helpful for generating and managing content that needs to undergo internal reviews before publication, with built-in drafting panes and SEO checklists for writers.
If other responsibilities are keeping you from managing your company's content marketing to its best advantage, Leadit Marketing can run your content campaigns for you. Contact us to learn more.
Blogger Profile
Shannon Prager is recognized B2B marketing strategist and the President of Leadit Marketing. She is responsible for the daily operations and management of Leadit Marketing as well as the long term vision for the company.
A marketing leader with over 19 years of B2B demand generation and marketing experience, she understands the importance of a fully developed integrated marketing strategy. Shannon's background includes demand generation, marketing automation, social media, digital marketing, customer marketing, account based marketing and marketing operations. You can follow her on LinkedIn via https://www.linkedin.com/in/shannonprager or Twitter @ https://twitter.com/LeaditMarketing
Sign up for our weekly blog for the latest tips and trends in B2B marketing.