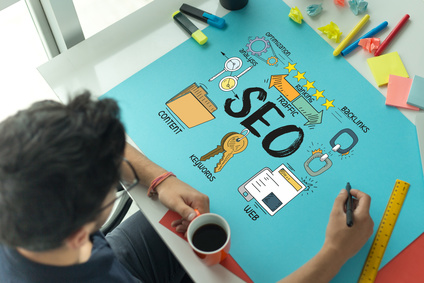 The fine art and science of Search Engine Optimization (SEO) is being refined every year, as digital marketers strive to keep pace with shifting technologies and changes in personal and spending habits. Like so many other digital marketing strategies, keeping up with SEO trends demands a regular review of what's shifting, what's out, and what's new.
Read on to see what's trending in SEO for 2018.
Today, page optimization begins with basic SEO, and ends with great copywriting.
As of the last several years, SEO operates on two fundamental principles:
You must optimize the page with on and off-page settings so that search engines can see what it's about and judge its quality and relevance to a given search query.
The quality of a page's content is the single most important factor affecting how high your page ranks on a Search Engine Results Page, or SERP.
In the bad old days, quantity counted over quality. Keyword stuffing (resulting in some pretty awful sentence structures and grammar mistakes), purchasing backlinks from aggregator sites, and other "black hat" techniques abounded. But the more technically sophisticated engineers at the major search engines have worked successfully to eradicate such practices, penalizing those unethical websites with the lowest rankings or even blacklisting them altogether.
A Word About Keywords
Keywords remain of high importance, but Google and the other search engines have developed AI-based search algorithms which are now as discerning as any college writing professor when it comes to judging the quality of the text. Even a well-chosen, relevant keyword phrase won't redeem a page containing shoddy or inadequate information (i.e., the kind of paper your college prof might have graded a "C" or worse.) You need both a good long-tail keyword and well-organized and truly informative content that fully answers the search query.
Long-tail keywords: A full fifty percent of search queries today are four words or longer.
Most users aren't searching for simple terms – they're searching for something very specific, what we call "long-tail keywords." Your content needs to reflect this intent, and use the kinds of phrases you would see in a 4+ word search term. Descriptive adjectives, category words, location-related words, as well as the main subject term can all be part of a long-tail keyword.
SEO TRENDS FOR 2018
If you want to rank on the first SERP page, use HTTPS.
HTTPS is the protocol that ensures your website is being viewed over a safe connection. To be able to add an S to an HTTP web address, one needs to acquire a so-called SSL (Secure Sockets Layer) certificate. This certificate allows a site's visitor data to be encrypted and secured.
Google has made it clear that having HTTPS is a pretty big deal. As of June 2017, 55% of sites on page one of Google were secure, according to the search tracking site Moz. When the stats are collected for all of 2017, that number is expected to rise to 66%.
Google is getting serious about pushing websites to use SSL certificates. Their Chrome browser has started implementing warnings on sites that don't have the HTTPS prefix. This can affect a user's experience negatively, and dissuade them from browsing your site or purchasing your services. Put this one on your to-do list for this year.
Be prepared for Voice Activated Search.
Voice searches on mobile devices have been on the rise for a while, but with Amazon's Echo winning the distinction of being 2017's most popular Christmas gift, the Age of Alexa is here. Apple and Google Home devices will only accelerate the trend of using voice activated search.
Already 55% of teens and 40% of adults use voice search on a daily basis, and it's predicted that by 2020 half of searches will be voice activated.
To address this, improve your website content by incorporating a more conversational style of long-tail keyword. Conversational phrases should be added while optimizing conversational voice search. Apply a keyword strategy that goes well with how people talk and ask questions in real-life situations. Think about questions that can be thrown at you by the customers, and create content that focuses on those conversational search terms.
Be aware of how you might be judged by RankBrain.
RankBrain is a machine-learning artificial intelligence system that helps Google process some of its search results, in particular rare or one-of-a-kind queries. It was launched in early 2015 and is used globally by Google.
RankBrain is primarily focused on helping refine queries that Google processes, but the company says that the system is also used to help rank web pages. In fact, Google says RankBrain is its third most important ranking factor. It's all about making your content as relevant as possible to the long-tail keywords users are searching with.
Don't ignore the growing influence of mobile.
Already more than 50% of searches are done via mobile devices, and this number will only continue to grow. Mobile search has grown so much, there has been a lot of talk about starting to rank websites by their mobile version, instead of the desktop one. Although the change will happen very gradually, you should know that your mobile site has an impact on your SEO.
Besides this, Google is also on the lookout for AMP (Accelerated Mobile Pages) pages. This format, dedicated to blog posts and articles, enables super fast loading when clicked on from search results. On top of offering the readers a better experience, it also improves the SEO of the websites using them.
Length matters: the more information on your page, the higher it ranks.
The average first-page result on Google contains 1,890 words. Long-form content of over 1,000 words consistently receives more shares and links than does shorter form content. But just like you couldn't BS your way through that 10-page term paper in college, don't try to do it here either. You have to put in the time. If you're writing for your company's website, you should be expert enough in the subject matter to expound at length, or find resources (human or otherwise) within your company with sufficient subject matter expertise to fill the bill and give you an outline.
Create quality backlinks.
What is a quality backlink? It's a link from a directly relevant and recognized "authority"  website  which already has a high degree of web traffic, and is already known to the search engines for that particular subject matter. Some call these "Authority" websites, Quora is a good example of that type of quality link.
The higher the relevance between the original content and backlink content, the greater the quality of the backlinks.
Leverage the growing utility of local search.
Google "near me" searches are increasing exponentially every year.
If you're a business that depends on local traffic or has a limited service area, this is key.
Local SEO tactics are important for smaller businesses that might not be blogging or creating a ton of content. Make sure your site is in any online local registries or service or retail businesses, and that all of your information is up to date. One of the most basic things you can do to optimize your website for local search is to include the name of your city or region (or whatever is your service area) in the SEO page title.
High-quality Content and Link Building are still the two most important signals used by Google to rank your website for search.
Quality content has consistently been a factor towards gaining traffic and ranking for your site/page, so it's probably one thing we can expect to remain the same for the foreseeable future.
Focus on quality over quantity. This also will help competitors or others in your industry to see your site as valuable, and make them want to link back to your site.
Want help with Search Engine Marketing? Leadit Marketing has customized solutions that will work for your business.
Blogger Profile
Shannon Prager is recognized B2B marketing strategist and the President of Leadit Marketing. She is responsible for the daily operations and management of Leadit Marketing as well as the long term vision for the company.
A marketing leader with over 19 years of B2B demand generation and marketing experience, she understands the importance of a fully developed integrated marketing strategy. Shannon's background includes demand generation, marketing automation, social media, digital marketing, customer marketing, account based marketing and marketing operations. You can follow her on LinkedIn via https://www.linkedin.com/in/shannonprager or Twitter @ https://twitter.com/LeaditMarketing
Sign up for our weekly blog for the latest tips and trends in B2B marketing.