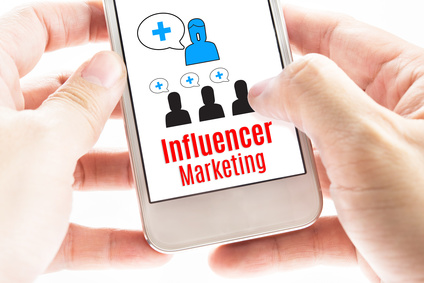 Influencer marketing is a fairly simple concept to grasp – a new spin on the time-honored strategy of celebrity endorsements. Its successful execution, however, is much more nuanced. Here, we explain how to use influencer marketing in the world of social and other online media, and how to execute an influencer marketing strategy that won't break your bank or force you to work red carpet rope lines to get attention for your product.
Why Follower Numbers Shouldn't Be Your Starting Point
Many brands are still settling for simple vanity metrics — the number of followers or likes on social media, for example — without researching their audience demographics, interests and geographic location.
Solely referring to influencers' vanity metrics can have a negative impact on marketing campaigns. As social media platforms become saturated, big numbers look like an easy win if you want a well known celebrity but they are less and less meaningful when you parse them out with some audience insights.
Having the most Followers doesn't matter as much as who those followers are, and what they're most interested in.  An instantly recognizable celebrity supermodel may have millions of followers, but those may not all be in the U.S., they may not all be female or the right age, and they may be only somewhat interested in fashion or beauty.
Choose Micro-Influencers Through Micro-Targeting
Micro-Influencers are the social media "celebrities"—regular people with engaged and loyal audiences addicted to their social accounts– as opposed to the mega-celebrities we all know.
If you want to sell beauty or fashion products, a popular fashion or beauty blogger who's wildly popular with your demographically targeted audience is usually a better choice than a member of the Kardashian clan. The Micro-Influencer's followers look to her specifically for trends, advice or information about products.
More Bang For Your Buck
You can cut an influencer deal with the fashion blogger at a much lower cost than you can with the supermodel. (See the end of this article for recommended sites where you can view Micro-Influencers and analyze their audience demographics.)
This strategy is catching on with marketers everywhere, if you look at recent numbers:
In 2016, micro-influencers activating marketing contracts rose from 60% to over 92% of all influencers engaged. And while micro-influencers started the year with only about 6% share of marketing spend, they closed 2016 with a more than 20% share of influencer marketing spend.
These figures also reflect the disproportionate fees charged by mega-influencers, who you will notice still capture 80% of all influencer marketing dollars despite representing less than 10% of all marketing influencers engaged in 2016. This further illustrates the point about the high relative cost of mega-stars.
Micro-celebrities, on the other hand, will take the time with you to do it right, with some good marketing guidance from you. They love to tell their unique visual brand stories.  In the right hashtag forums, these can result in millions of impressions, a high level of traffic — and new customers to their marketing partners.
The Importance of Audience Alignment
Use influencer analytics tools to help you select Influencers with the most appropriate alignments between their audience demographics and the products you sell.
Influencer marketing can happen anywhere someone can build a loyal audience, so consider the channels that align with your goals and your brand: Facebook Pages/Groups, YouTube, blogs, Tumblr, Twitch, Twitter, and more.
Don't Ignore The Authenticity Factor
Be sure to partner with influencers who could easily be seen by their audiences as likely users of your product. Otherwise your influencer's followers are likely to see right through it. Worse, many will call them out for it, which destroys the authenticity of your message.
Also beware of the flip side. A social media following is something anyone can fake, so make sure you carefully select legitimate creators and structure your campaign in a way that you get the most bang for your buck without compromising the integrity of the creator.
The advent of platforms like those described below has to some extent meant that the power is flipped, with micro-influencers now a commodity like any other media channel. Savvy marketers can require them to share some of the risk in the deal. As influencer marketing options and access have grown in the past few years, there's starting to be a shift away from a fixed payment model toward hybrid models that reward success in return for clicks, sign-ups or views.
Below are some recommended platforms where you can find Micro-Influencers.
Influence.co
Influence.co is essentially a directory and portfolio site for influencers to showcase themselves. Their pricing model focuses on helping influencers promote their business, so brands like yours can use it for free to reach out to influencers.
If you're working with groups of influencers, the definition of success becomes very obvious, and you can compare influencers to assess which had the most traction and provided the strongest return on investment.
Whalar
Whalar is a platform that helps you discover and manage multiple influencers. It's a good option if you want to use influencer marketing as a means of sourcing stunning product photos and user-generated content.
Grapevine
Grapevine boasts a network of over 115,000 creators with a hefty focus on YouTubers, though the platform has recently embraced Instagram as well. You only pay when you book a creator and their free escrow service holds your payment until the creator goes live with your content.
Famebit
Famebit is one of the largest influencer marketing platforms for creators across Instagram, YouTube, Facebook, Twitter and Tumblr. The great thing about Famebit is that it's free to post your campaign and receive proposals from creators. You then get to choose who you want to hire and pay.
A Final Word of Warning: Be Transparent About Your Sponsored content.
Since influencer content is often hard to differentiate from a creator's unpaid content, influencers typically identify posts that are sponsored by a brand.
But due to attempts at disguising sponsored content, the FTC has begun warning brands and influencers that use ambiguous identifiers like #spon and #sp, especially on Instagram. To be safe, be up front about sponsored content or by using clearer hashtags like #sponsored, #promotion, or #ad in the post.
If you want to use influencer marketing but aren't confident you're ready, Leadit Marketing can help get you started with a free consultation.
Blogger Profile
Shannon Prager is recognized B2B marketing strategist and the President of Leadit Marketing. She is responsible for the daily operations and management of Leadit Marketing as well as the long term vision for the company.
A marketing leader with over 19 years of B2B demand generation and marketing experience, she understands the importance of a fully developed integrated marketing strategy. Shannon's background includes demand generation, marketing automation, social media, digital marketing, customer marketing, account based marketing and marketing operations. You can follow her on LinkedIn via https://www.linkedin.com/in/shannonprager or Twitter @ https://twitter.com/LeaditMarketing
Sign up for our weekly blog for the latest tips and trends in B2B marketing.