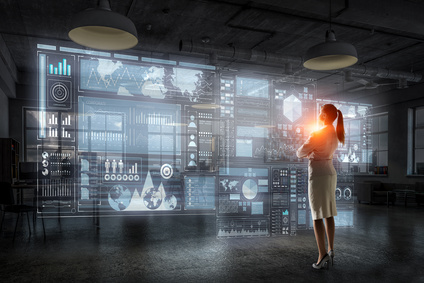 Data-driven insights into what's driving more Marketing Qualified Leads (MQLs), Sales Qualified Leads (SQL), and how best to optimize marketing campaigns are just some of the many areas where machine learning is revolutionizing marketing.
Machine learning, also known as Artificial Intelligence or AI, is disrupting a lot of our old familiar digital marketing strategies. Here are some trends to watch in marketing tech for 2018.
Marketing automation used to be thought of as just a more sophisticated way to schedule relevant emails. Then it branched out into lead tracking and more CRM-like functionalities.
Now, it's gotten way smarter than that. The newest ones are used by B2B marketers to score, personalize and nurture leads. Through machine learning algorithms, they understand who is visiting your web properties, interpret their behavior when present, mark the type of content they're interested in, and know what they're likely to be interested in when they visit again.
This is especially important for predicting the interests and needs of purchasers, including the several and different purchaser stakeholder personas likely to be involved with any one B2B account. For B2B companies, the most significant growth benefit of AI and machine learning will be improving customer experiences and support.
AI takes over.
In voice search, replacing text:
AI has changed the way marketers need to create and optimize content. In fact, it is upending the entire field of SEO. The increasing dominance of voice search, mainly powered by Google's RankBrain, is driving the goal to deliver more relevant search results in response to full-sentence questions like those you might once have asked your reference librarian.
Most queries now are based on the natural human voice as we engage with Siri or Alexa for answers, instead of typing a hit-or-miss, crudely constructed query phrase into a search box.
Last year 20 percent of online searches were conducted through voice search. By 2020, that number is expected to increase to 50 percent.
Just as marketers have optimized content for web 2.0 and mobile, everyone needs to start optimizing content for voice search as well. Because voice search is easier than typing, searches tend to surface more long-tail content. By comparison, text search tends to surface sorter phrases.
In website messaging:
Thanks to tools like Intercom and Drift, marketers can already use artificial-intelligence-powered live-chat tools to communicate with customers. As this technology gets ironed out, it is likely that more brands will embrace AI live chat to better service website visitors.
Personalization is going to the next level. A key tenet of account-based marketing (ABM) is providing content tailored to specific accounts or account types. As ABM principles go mainstream, look for content personalization to proliferate. Platforms like Optimizely make it possible for marketers to recommend specific pieces of content to their web visitors similar to the way Netflix suggests shows.
In-car ads will become a new marketing channel for some brands.
In larger cities like New York, ad-sponsored media and web browsers have been installed in the back seats of taxis for several years now. But the next frontier for these read-while-you-roll channels is self-driving cars.
The Waymo fleet of self-driving cars has driven three million autonomous miles and simulated over one billion miles. Uber recently ordered 24,000 Volvo SUVs to be outfitted with the latest self-driving tech. The Tesla Models S, X and 3, the Audi A8 and the Mercedes-Benz S-Class are all self-driving to some degree.
What will happen when drivers no longer need to pay attention to the road? They'll consume content, of course, and with that content will come in-car ads. Watch for some brands to begin experimenting with this new marketing channel in the coming year. Whether you're ready for it or not, they're here. And they're ripe for commercialized sponsorship.
Digital Marketing is Transforming.
And finally, some new approaches to digital marketing may be in the offing.
According to Forrester Research's 2018 Predictions, B2B marketers are as subject as any others to disruptive platforms that could displace some brands–or entire industries– through AI enablement.
Forrester predicts that many CMOs will increase spending on:
Revitalizing the Customer Experience (CX) to drive affinity and stem churn.

Synchronizing loyalty programs to customer expectations.

Understanding how to decode digital platform algorithms.

Advancing marketing tech to deliver individualized experiences at scale.
Is your staff not trained on the MarTech platforms you know you should be using right now? Leadit Marketing has expertise with marketing automation suites like Eloqua, Marketo, Hubspot Pardot and more. We can help you through the choices to nail the right campaign strategy. Contact us for a chat, any time.
Blogger Profile
Shannon Prager is recognized B2B marketing strategist and the President of Leadit Marketing. She is responsible for the daily operations and management of Leadit Marketing as well as the long term vision for the company.
A marketing leader with over 19 years of B2B demand generation and marketing experience, she understands the importance of a fully developed integrated marketing strategy. Shannon's background includes demand generation, marketing automation, social media, digital marketing, customer marketing, account based marketing and marketing operations. You can follow her on LinkedIn via https://www.linkedin.com/in/shannonprager or Twitter @ https://twitter.com/LeaditMarketing
Sign up for our weekly blog for the latest tips and trends in B2B marketing.