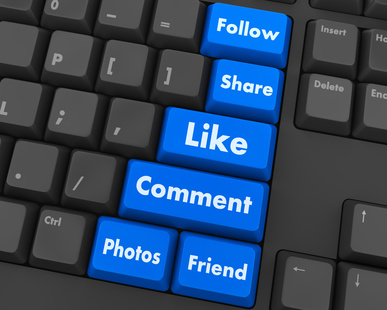 Facebook announced this month that the company is making a huge change to its News Feed algorithm. Personal news feeds will now prioritize friends and posts that spark comments between them — at the expense of public content, news outlets and, importantly, the total number of ads you see on the social network.
What does this mean if you've already placed a big bet on Facebook advertising (like so many others have done in recent years)?
Mark Zuckerberg's post announcing the change put it this way:
"We built Facebook to help people stay connected and bring us closer together with the people that matter to us. That's why we've always put friends and family at the core of the experience. Research shows that strengthening our relationships improves our well-being and happiness. But recently we've gotten feedback from our community that public content — posts from businesses, brands and media — is crowding out the personal moments that lead us to connect more with each other."
The new Facebook news feed changes their algorithm to favor active participation over passive watching.
In a blog post detailing the algorithm change, Facebook's VP for News Feed Adam Mosseri writes that
"Facebook will prioritize posts that inspire back-and-forth discussion in the comments and posts that you might want to share and react to . . Because space in News Feed is limited, showing more posts from friends and family and updates that spark conversation means we'll show less public content, including videos and other posts from publishers or businesses."
The biggest losers will be publishers who've shifted resources to invest in eye-catching pre-recorded social videos, says Mosseri, because "video is such a passive experience." He admits that he expects publishers to react with "a certain amount of scrutiny and anxiety," but didn't have many concrete answers about how publishers should scramble to react beyond "experimenting … and seeing … what content gets more comments, more likes, more reshares."
He cited Oprah's recent Golden Globes speech as content that would fare better in the revamped feed. Live videos generating discussion, star social media creators, celebrities, Groups posts, local business events and trusted news sources are other types of content that should get a boost.
Facebook's old NewsFeed algorithm, which was set in place in spring 2016, highlighted content and conversations among family and friends. However, this new tweak will place value on "meaningful social interactions."
Rather than spelling doom for publishers and advertisers as many have suggested, this could actually mean more traffic to groups and official Pages from publishers and businesses, Mosseri said in an interview with Stratechery.
"So if you and I had a back and forth conversation on a post from a Page, that would actually count as a meaningful social interaction," Mosseri said. "… it's more about the interactions between people and less about just the consumption of content from friends."
Meaningful engagement matters now more than ever.
Instead of contentment-defeating news, cute videos that you watch but don't react to, and posts from advertisers, the emphasis in people's feeds now is on conversations. Interactions among friends stemming from live videos, celebrities' posts, private groups and other highly interactive post types will be among those highlighted on the new News Feed.
This, then, will become the major challenge for Facebook marketers and ad managers: how to publish posts that will maximize reactions. While Likes, Shares and Comments have always been used as engagement metrics, the new algorithm will mainly favor comments – and mostly ones that generate more comments from users known to the previous commenters. In other words, posts that spark conversations among friends.
Facebook has not yet explained in detail how the algorithm changes will affect the targeting goals that advertisers use for display ads and boosted posts. We can infer that they will continue to deliver on the terms promised, but it may take longer for a campaign to spend down on the same budget. Purely social posts presumably will start elbowing out the commercial ones.
You can watch a video from Facebook that examines the upcoming changes, which the company says will be rolling out over the next few months.
The Takeaways, for now:
Fast, cheaply produced ad videos

will start dropping from news feeds. If you've been relying on these, it's time to phase those out. Videos that don't spark conversations won't be displayed as frequently.
Influencer marketing videos and "native advertising"

will have more power, especially those using recognizable celebrities talking about hot topics related to your brand or business. These will often get conversations going.
Don't shy away from controversy

– that's what gets people engaged, and every time they do, their friends with similar interests will see your post and, hopefully, react with more comments. An advertiser's job is not to avoid stepping on toes. To borrow another cliche, you have to crack some eggs if you want to make a souffle.
Highly interactive post

s involving games, contests and appearance-changing themes are the type that are likely to spur more engaged comments among friends.
Topic-provocative videos and memes

on trending movements should continue to do well (such as Oprah's speech at the Golden Globes).
Leadit Marketing can help you target your best customers through social media. Contact us to learn how we help clients spur brand awareness and engagement online.

Blogger Profile
Shannon Prager is recognized B2B marketing strategist and the President of Leadit Marketing. She is responsible for the daily operations and management of Leadit Marketing as well as the long term vision for the company.
A marketing leader with over 19 years of B2B demand generation and marketing experience, she understands the importance of a fully developed integrated marketing strategy. Shannon's background includes demand generation, marketing automation, social media, digital marketing, customer marketing, account based marketing and marketing operations. You can follow her on LinkedIn via https://www.linkedin.com/in/shannonprager or Twitter @ https://twitter.com/LeaditMarketing
Sign up for our weekly blog for the latest tips and trends in B2B marketing.