Sales and Marketing: The Perfect One, Two Punch.
You have your marketing guru. You have your sales rep.  They each do their little thing and take on where the other leaves off, and all is good with the world, right? Wrong.
Today's customer needs a business who knows how to deliver what they want and that requires a united front where marketing and sales combine their powers to really pack a punch. 
Without a solid marketing effort, even the best product won't sell.  Without sales, a company wouldn't be in business long enough to build a team.  
Launching a business, product, or service, starts with sales and marketing.  
The analogy of fishing comes to mind here. You bait the hook with the right little morsel and you stand a better chance of reeling in the big kahuna. If you don't leverage both strengths of sales and marketing, you'll be lucky to get a nibble.

Engaging both teams when creating your overall B2B tech marketing plan is essential to creating a cohesive customer experience. What teams should be responsible for each aspect of the B2B buyer's lifecycle?

Learn how to leverage the strengths of your sales and marketing teams at our Webinar: How to Create A Marketing and Sales Engine + Keep It Running.

Sales, Marketing and the Customer's Buying Process
Your B2B customers have pains. That's what propels them to buy. When the pain becomes unbearable, they start looking for unique, new, or cheaper ways to remedy the problem.  
They research, then research a little more. They click here and there, surf and search, make a shortlist of solutions and, "bam!"  make a decision.  Simple, right?   
It should be simple, sure, but what muddies the water is every B2B tech organization has a slightly different way of "meeting their customer where their customer needs to be met."
A little hint here, "meeting the customer's need" is the very sweet spot of sales and marketing alignment.
To add to the complexities, customers have the digital age, the Internet, social media, and mobile everything at their fingertips so they're smarter, more capable, and more demanding than ever before.  
Heck, your customers are so ahead of the decision and buying game, they already know what they want before you even know they are looking.  In fact, Forrester Research says that now 90% of the buyer persona's journey is complete before a prospect reaches out to a salesperson.
No Two B2B Sales and Marketing Teams Are Alike
On the other side of this, the role of sales and marketing is significantly different from company to company.  For example, a small business may not set up a formal marketing group, but all of their marketing ideas come from the sales team, or an agency. Small businesses typically equate marketing with selling.  They don't think of it as two separate functions.
Eventually, the small business becomes a bigger business that adds a marketing person or builds a marketing team to help sales do more.  They handle all the market research, market opportunities, marketing channels, and all the marketing stuff then scoot it over to the sales team whose job it is to attract customers and close sales. At the end of the day, the lines are drawn because both sales and marketing still see the marketing group as an adjunct to the sales team.
As companies become larger, companies and teams realize there is more need to differentiate. They determine that effective marketing needs people skilled in segmentation, targeting, and market positioning.
At this stage, marketing typically becomes an independent function. It also starts to compete with Sales for budget. And this is typically where team alignment and conflict begin. Each group takes on tasks it believes the other should be doing but isn't doing well. At this stage, the sales and marketing can't align on what the other should be doing and therefore they can't define what success looks like.
When your sales and marketing teams are aligned, that's when the great B2B integrated marketing work begins. Stay up to date with the latest B2B marketing tips and tricks by signing up for our newsletter here.

Sales and Marketing: Your B2B Tech Organization's Dynamic Duo
If you've been following our Play Big Series, you'll know that the way you reach your customers depends largely on: 
The pain you're serving (

your value proposition

)

The customer you're targeting (

your target market

)
The larger your company becomes, the harder it is to deliver the best customer experience, consistently, across multiple marketing and sales channels and geographies.
Organizational silos are still common and pose a threat to success because companies get so centered around what they "know" and less focused on what they "don't know." This directly impacts the customer experience—every time— because you've made your business about you, not your customer. 
To shift from "conventional alignment" to "sales and marketing collaboration" requires a focus on more than just getting the two functions to work together. B2B sales and marketing leaders need to develop buyer persona-focused engagement strategies that rely on joint planning and execution across the sales and marketing organization.
This partnership reinforces the narrative that sales and marketing are extremely interdependent and that with a coordinated approach, they can knock revenue generation out of the park.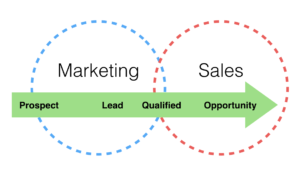 If Sales and Marketing Aren't Aligned Your Revenue Machine is Broken!
If sales and marketing are not aligned, you end up falling into a black hole of  he-said-she-said, "marketing provided poor leads" and "sales were too lazy." But if you build a "revenue machine" that's powered by a unified sales and marketing approach geared toward the common goal of raising revenue, you can be unstoppable, like a machine. 
When marketing and sales are aligned, the results are huge. Organizations with aligned teams experience:
Sales and Marketing, They're Just Meant to Go Together.
When you connect sales and marketing and set them on a collaborative journey, you'll find the path leads right to the hearts and minds of your customers.  Whenever you're ready, we're here to kick things into gear for your long-term success.
Need help aligning your sales and marketing teams to create a multichannel marketing engine? Start your revenue engine by downloading our eBook: Synergized Marketing Is An Energized Bottom Line.