Infographic: Strategic Demand Generation for the Modern B2B SaaS Company
As a tech company, what is it that you create? 
In concrete terms, the answer is simple— software for your customers. But the tech powering your service offering isn't really what matters most. What matters most is your customers' needs, your understanding of those needs, and how your product meets them. Getting that message across to your customers is what good marketing is all about.
Why is marketing important?

When it comes to marketing for B2B SaaS companies in the modern era, it's critical to master the entire end-to-end journey your customers take and message to each step in that process. Building a strong connection with your audience means getting their buy-in throughout the customer journey, not just during one aspect of it, since it typically takes at least eight touch-points before someone tells you who they are.
That strong human connection leads to relationships built on well-established trust for your brand. And trust is critically important when asking for a big commitment from a financial, technical or business investment perspective.

Why does demand generation strategy matter for B2B SaaS companies?
Let's say you have a superior product, you know that it meets a very common need, and you're determined to offer the best possible customer service. Marketing may seem like something you only need to do 'in addition' to the core mission of your company— to create an excellent SaaS product.
In reality, marketing and demand generation is so much more than that. In fact, it is often the primary way in which you connect with potential customers. 
The digital landscape has dramatically changed the way in which companies interact with customers. Not surprisingly, 93% of buying processes start with an online search. Without a digital marketing strategy, you'd capture less than 10% of your prospective customers.
On average, a SaaS company will invest around 100% of their revenue or more in sales and marketing in their first five years. It's often a necessary step to ensure rapid growth and market competitiveness. After all, your competition is almost certainly leveraging the vast online landscape to capture more of their own market share.
How do you make sure to spend your digital marketing money wisely?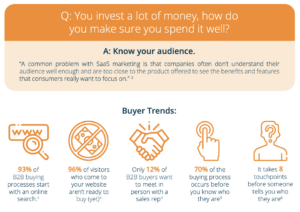 Many B2B SaaS companies make the mistake of thinking that they are their audience, so what use is audience research? But they fail to take into account a huge host of personal differences that can make or break their marketing efforts, even if they think they're sending the perfect message to their audience. 
Audiences can be complex, which can make marketing to them complicated. Companies have to consider the vast array of audience personas that may engage with their digital marketing. 
For example, a millennial buyer may have very different preferences for engaging with brands as well as a different overall communication style than say, a baby boomer. And beyond age groups, an audience's level of influence on buying decisions or their role in a company will impact the information that is most relevant to them.
Understanding persona data like this goes deeper than industry or vertical. Knowing your audience means collecting qualitative and personal data on how your audience communicates, thinks, engages and, ultimately, buys from you. Effective digital marketing plans can't be built without this kind of critical data.
How can you better connect with your SaaS target audience?

Knowing your audience allows you to customize the entire customer journey. That customization and personalization is an important part of engaging your audience. In the digital age of marketing with the accessibility of detailed analytics, personalizing your customer journey and the information presented to them is necessary to build trust and interest.
It's no surprise that 95% of buyers prefer companies that provide them with relevant content through every step of the buyer's journey. It's the difference between marketing to 'companies searching for X SaaS software' and marketing to, for example, 'a 35-year-old Chief Technical Officer of a 3-year-old company of 60 employees in the food delivery industry.' 
Align for long-term SaaS growth
Better digital marketing also comes from better alignment between your sales and marketing teams, creating a long-term plan built on a foundation of cooperation. That alignment comes from a cohesive strategy and consistent messaging so the movement between sales and marketing channels is seamless for the customer. 
Failure to align your teams leads to wasted budgets, unused B2B content, and marketing leads that are never converted to sales. Businesses with sales and marketing teams that are aligned are more efficient at closing deals, collaborate more effectively to enable better business growth, and drive up to 200% revenue for their organizations.
Learn how Leadit can help your B2B SaaS grow
Want to learn more about B2B SaaS demand generation strategies? Check out our infographic.  To learn how to accelerate growth through modern marketing strategy, contact us now for a free B2B SaaS Marketing consultation.